Cardano price has been rising steadily in the past few months and has now hit levels last seen in January 2018 with over 30% remarkable surge.
The price of Cardano (ADA) has surged 30% in the past day, buoyed by upcoming developments for the protocol and a favorable sentiment among cryptocurrency speculators. It trades at $0.45 at press time, hitting prices last seen three years ago in January 2018.
Launched in 2017 by former Ethereum co-founder Charles Hoskinson, Cardano is a proof-of-stake protocol that allows users to run smart contracts atop its blockchain. Its current version, "Shelley," bought about staking rewards in 2020, marking the start of the second phase of its multiyear, five-phase launch.
Now, with fundamental catalysts upcoming and a favorable technical chart, the speculators are piling in.
Later this month, Cardano will see the launch of native assets on its blockchain, allowing users to issue their own tokens that, in turn, run on Cardano. The project's developers say that such tokens will be faster and more scalable than existing blockchains, such as the widely popular ERC-20 tokens which run on Ethereum.
Another positive catalyst is the (upcoming) complete decentralization of Cardano's staking pools in March. As per a post by Cardano's development team IOHK last year, the network's block production will be fully decentralized—meaning IOHK will have no role to play in the network anymore (apart from development).
Meanwhile, as the chart below shows, ADA broke out from a major resistance level of $0.35-$0.37 in the past day, signifying traders and market participants are now valuing it at higher prices than the past few weeks, where there were significant dips.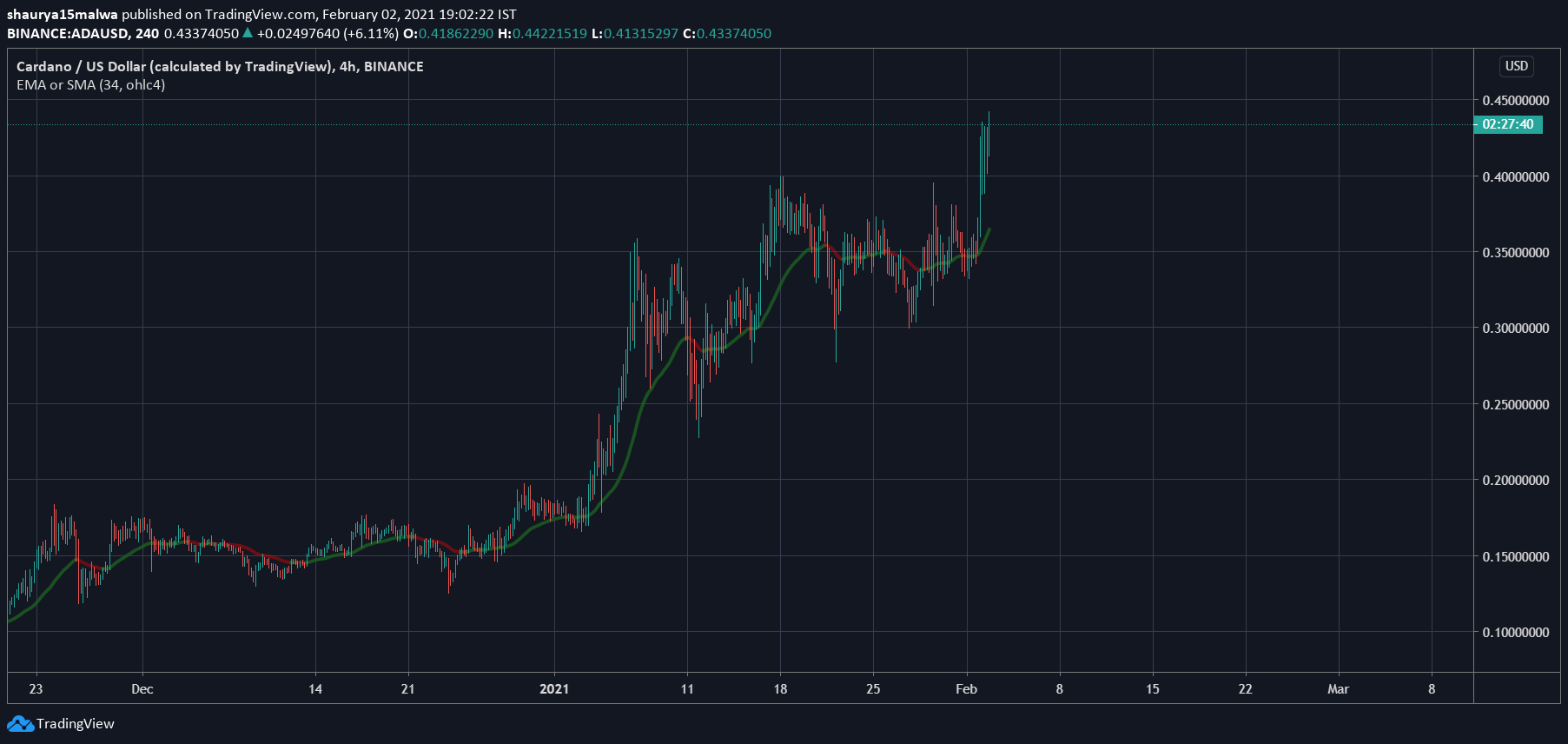 Cardano has surged to 2018 levels. Image: ADA/USD via TradingView.
ADA also trades well above its 34-day moving average—a popular indicator used by traders that calculates the average prices over recent time periods to determine a market trend—and remains in a strong uptrend.
But despite the surge, ADA still has a long way to go before meeting its previous all-time high of $1.41 in the first week of 2018—that is, unless it rides a WallStreetBets-like wave.
This article is sourced from:https://decrypt.co